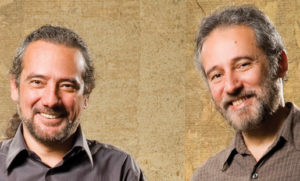 Date: Sat, Apr 29, 2017, 8 pm
Location: Lexington Avenue at 92nd St
Venue: Kaufmann Concert Hall
Price: from $40.00
"A kind of wizardry lies within the playing of Sérgio and Odair Assad … they produce a supple, flawless unified sound." — The New York Times
The Washington Post has called the Assad Brothers "the best two-guitar team in existence," and 92Y has been proud to be the duo's artistic home in New York City. Returning after their 50th anniversary concert two years ago, they close 92Y's classical concert season in Kaufmann Hall with a program that demonstrates their versatility and virtuosity.
Sérgio Assad, guitar
Odair Assad, guitar
SOR: Fantasia, Op. 54
ALBENIZ: "Cordoba," from Cantos de España, Op. 232 ◄
ALBENIZ: "El Puerto," from Iberia
RODRIGO: Tonadilla for guitar duo
DYENS: Excerpts from Côté Nord
VILLA-LOBOS: A Lenda do Caboclo (arr. S. Assad)
VILLA-LOBOS: Chôros No. 5, "Alma Brasileira" (arr. S. Assad)
GNATTALI: Excerpts from Suite Retratos
JACOMINO ("CANHOTO"): Abismo de Rosas
POWELL: Tempo Feliz
PAULO BELLINATI: Jongo
Join us for a free pre-concert talk one hour before every performance with your ticket, led by Benjamin Verdery, Art of the Guitar artistic director and chair of the Guitar Department of the Yale School of Music.
– See more at:
http://www.92y.org/event/sergio-and-odair-assad-guitar.aspx?utm_source=Facebook_Assad&utm_medium=Facebook__Assad_Apr2917&utm_campaign=Concerts