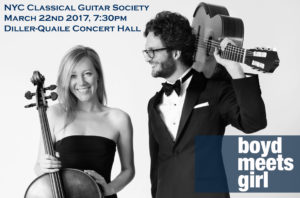 NEW YORK: Very excited for a concert next Wendesday (March 22nd, 7:30pm) for the New York City Classical Guitar Society, with my ensemble Boyd Meets Girl, with my wife, cellist Laura Metcalf:
The concert will be held in the beautiful recital hall at The Diller-Quaile School of Music, and we will perform works by J.S. Bach, Piazzolla, Zenamon, Falla, Edwards, et al. Tickets and details can be found here: http://nyccgs.com/rupert-boyd/
ALBUM: For those not in New York, we have recorded much of this repertoire for our forthcoming debut album as an ensemble, and very excited to share it with you when released in a few months time!