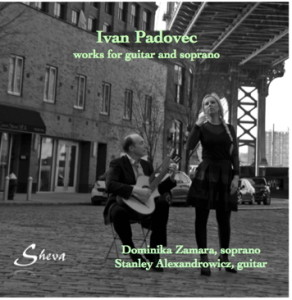 Dear Friends and Colleagues,
Please join internationally renowned "soprano extraordinaire" Dominika Zamara and myself for a recital of arias, songs, and guitar solos this Wednesday at beautiful Grunin Center for the Arts at Ocean County College, New jersey!
Featured will be:
1) Romantic lieder by Croatia's greatest 19th Century composer-guitarist Ivan Padovec (as recorded on our recent world-premiere CD "Ivan Padovec: Works for Guitar and Soprano" – Sheva Collection Recordings, Italy).
2) Solo works of the Romantic era's greatest guitar virtuosi: Napoleon Coste (France), Johann Kaspar Mertz (Hungary), Johann Dubez (Vienna).
3) Contemporary composer-conductor Maestro Robert W. Butts' beautiful, touching, and virtuosic "Early Morning Suite" (dedicated, premiered, and soon-to-be-recorded by today's performer).
4) Famous operatic arias by Vincenzo Bellini (Casta Diva – from the opera "Norma"), Antonín Dvořák (Song to the Moon – from the opera "Rusalka"), and Georges Bizet (Habanera – from the opera "Carmen") will top off the performance!
Wednesday 20 April, 2016 @ 1:00 PM
Jay and Linda Grunin Center for the Arts – Gallery
Address: 1 College Drive, Toms River, NJ 08754
Phone: (732) 255-0500
(follow the link: Dominika Zamara)
Hope to see you there!
Stanley & Dominika