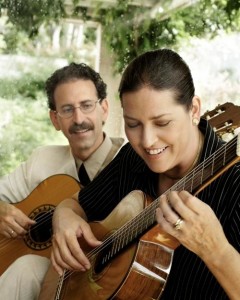 Mannes Ensemble-In-Residence, The Newman & Oltman Guitar Duo, will perform their annual residency concert at Mannes this Friday, March 11, 2016 at 8:00 PM.
Admission is free; no tickets or reservations required
Program
:
Dusan Bogdanović (b. 1955)
No Feathers on this Frog
Johann Kaspar Mertz (1806-1856)
Barcarole
Mazurka
Tarantella
Paul Moravec (b. 1957)
Raritan Triptych
Alfonso Montes & Irina Kircher
Canción
Isaac Albéniz (1860-1909)
Rumores de la Caleta
Preludio from Cantos de España
PLUS, a selection of Irish and Celtic Tunes by Turlough O'Carolan and others, in honor of St. Patrick's Day!
*****
And on Saturday, March 12 at 5:30 PM, come to the Newman & Oltman Guitar Duo's special master class for young artists and mini-concert at the Fort Lee School of Music.
Visit www.fortleemusicschool.com for details.
****
Watch for all details of the 16th New York Guitar Seminar at Mannes, July 5 – 11, 2016, at our new home:
Mannes School of Music
College of Performing Arts at The New School
55 West 13th Street in Greenwich Village, New York, NY.