Archive for March, 2014
March 6th, 2014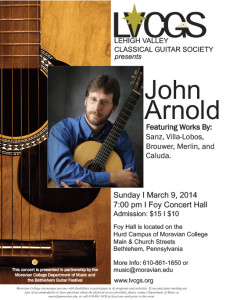 March 3rd, 2014
The NJMEA (New Jersey Music Educators Association) Guitar Festival will be held at Wall High School on April 5th from  10:00-4:00. Wall High School is at the corners of 18th Avenue and New Bedford Roads.
The festival will feature a concert and class by Israeli-born guitar virtuoso Tali Roth, who is the director of Classical Guitar studies at the Juilliard Pre-College division. The festival will also feature recitals by three young local virtuosi who have gone on to study with Ms. Roth at Juilliard: John Bogan, Joseph Douglass, and Ryan Johnson.
Mr. Bogan has won several competitions and is currently a student of David Starobin at the Manhattan School of Music. Mr. Johnson is a graduate of Wall High School and The Juilliard Pre-College division. Mr. Douglass is a senior at Pt. Pleasant High School and studies with Ms. Roth in the Juilliard Pre-College division. All three students studied with Keith Calmes, guitar teacher at Wall High School, and went on to study with Tali Roth.
The festival will also include a showcase for guitar ensembles (including the guitar ensemble from Rowan University), and a seminar on guitar education by Tom Amoriello from the NJMEA.
10:00-11:00: Student Ensemble Showcase
11:00-11:30: Joseph Douglass Recital
11:30-12:00 Ryan Johnson Recital
12:00-12:30 John Bogan Recital
12:30-1:00 Lunch Break
1:00-2:00 Maestro Tali Roth Recital
2:00-2:30 Tom Amoriello Guitar Education
2:30-3:30 Tali Roth Masterclass
For more information, click on the link below:
http://www.njmea.org/classroom.cfm?subpage=479
or contact Keith Calmes at Wall High School: kcalmes@wall.k12.nj.us or call 732-556-2077